It's a fire sale, it's a fire sale!
Join AutoMattic, WooThemes and many others and help us with creating a WordPress powered community for those who can't meet in real life due to suffering from Cystic Fibrosis!
We're giving away a ton of WordPress stuff for everyone that donates before the day ends! Please donate or help spread the word!!
Even by making a small donation to CFCommunity you can win some awesome WordPress stuff from our sponsors!
Donate ANY amount above 10 Euros to CFCommunity and have the chance to win:
$100 coupon off all WooThemes product (5x)
Grab 100 worth of themes, WooCommerce extensions, plugins, anything!
WP Remote Premium for one year(2x valued at $250)
WP Remote is perfect for those who have multiple WordPress sites to maintain. It provides a single place to monitor and update all of your WordPress sites.
A Full Site Migration by WPValet (2x valued at $250)
For those who are looking to migrate their WordPress (Multisite) site over to a new host. No matter the size!
One Year of Geek Hosting at SiteGround(10x valued at $250)
Crafted for Real Web Geeks and perfect for hosting your high traffic WordPress site! One click staging, Git integration, CDN, it's all there!
One Year of StartUp Hosting at Siteground (10x valued at $100)
The StartUp Plan gives you all the essential hosting features you need to accommodate a "just getting started" website or an existing average-size WordPress site!
WordCamp Miami tickets! (2x) & WordCamp Miami T-Shirts!(2x)
One of my favorite WordCamps is giving away free tickets! It's going to be an epic edition this year, since they're celebrating the five year anniversary.
Everyone who donates will get a free premium extension for BackupWordPress, the best WordPress backup plugin out there!
Additionally I'm making a giant "Thank you" poster that will feature all of you who've donated. This poster will be unveiled during WordCamp Miami.
Finally David from WordCamp Miami will donate at least $100 dollars to CFCommunity ($5 per unique submission/person) if you submit your most awesome WordCamp related photo in the http://miami.wordcamp.org photo contest.
All of the prizes can be passed along to your friends in the WordPress community, and since we're giving away, you're pretty much guaranteed to win something!
How can I win all of this WordPress awesomeness?
Go to the CFCommunity IndieGogo campaign. and on the right side of the page select the "WordPress Good Samaritan"
Make your donation and support CFCommunity!
Unlimited Karma and Virtual hugs from all people affected by Cystic Fibrosis!
Optional: Add your pretty face to the Hall of Fame by going here
Everyone who donates will be put into our price pool and at the end of our campaign we'll announce the winners here 🙂
Directly claim one of our awesome perks with a huge discount
– Six months of WPValet Express for 300 Euros (value of 1000 Euros!)
– One year of WPValet Express for 600 Euros (value of 2000 Euros!)
– Sponsor/Hall of Fame – 500 Euros (instead of 500 Euros)
Why we need your help!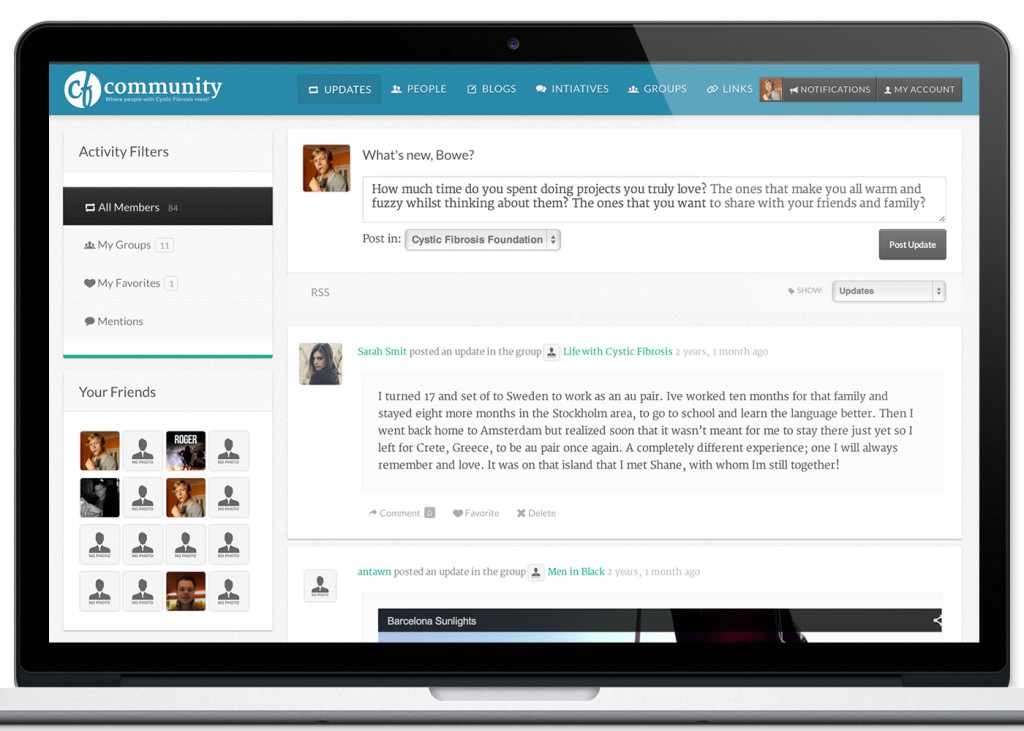 We need your help creating a WordPress powered social network for people with Cystic Fibrosis.
Cystic Fibrosis causes constant lung infections and your lung capacity deteriorates over time. Most people with CF need a lung transplant later in life, but due to long waiting lists this often comes to late. The average life expectancy for someone with Cystic Fibrosis is 35 years. In short; Cystic Fibrosis sucks.
I'm in an unique position to create something meaningful for those affected by Cystic Fibrosis. I can do this through my work with WordPress & BuddyPress and with the support of our community.
People with Cystic Fibrosis can't meet; We can't have WordCamps
Studies have shown that it's dangerous for people with Cystic Fibrosis to hang out in real life. We can't have WordCamps. We only have the internet to connect. Kids growing up with Cystic Fibrosis these days never even come into contact with each other. Because of a high susceptibility to lung infections, we can easily infect each other just by hanging out.
Help spread the word!